"Disclaimer: I was provided a copy of this book from the author to facilitate this review. As always, all opinions are my own and are not influenced in any way."
Before I even get into this book, you all know how I feel while I am writing this, if not…this is me right now…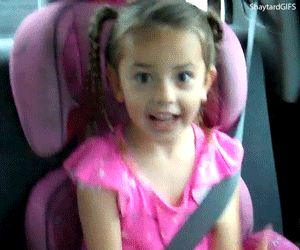 So lets get into the book! McKenzie's New School Blues was AMAZABLE! I know it's not really a word, but it's the best word that I can use to come up with my view on the book.
I volunteered to do a book review for this book because I wanted to do a chapter book, the name of the character is the same name as my daughter, and she kinda looks like her…what do ya think?
Anyway, I had my 9 yr old read us a chapter a night
She was in LOVE with it. The story is about McKenzie Mason who is in a new performing arts school, and like anyone who goes to a new place is nervous. She meets new friends and embarks in her new journey. There are so many things that I enjoyed about the story, here are a few…
It spoke on the Egyptian history. Even though some of the words were hard for her to say, she was very intrigued with it (I took it as a little history lesson 🙂
There was a girl with a little bit of an attitude  and McKenzie handled herself very well in the story (this is important to me because I am a big self-esteem, girl power person)
It was very relatable and interesting to my girls, with a lot of laughs. We all loved it and it will go on my fav's list.
So if you are looking for a great chapter book to read, this is a great one! The author did a great job with the story line.
Thank you for taking the time to read the review, if you get the book don't forget to let us know how you liked it!
Always remember, never get too comfortable, always keep God first.
Sincerely,
Keisha M.